Sierra Leone also  officially the Republic of Sierra Leone, Commonly called Salone, is a country on the southwest coast of West Africa. It is bordered by Liberia to the southeast and Guinea to the northeast. Sierra Leone has a tropical climate with a diverse environment ranging from savanna to rainforests, a total area of 71,740 km2 (27,699 sq mi) and a population of 7,092,113 as of the 2015 census. The capital and largest city is Freetown. The country is divided into five administrative regions which are subdivided into sixteen districts.
In February 1898, the Sierra Leonean people led an armed rebellion against British rule that is known today as the Hut Tax War of 1898. The nation achieved independence from Britain on 27 April 1961, and Milton Margai became the first Prime Minister. Margai's political party was the Sierra Leone People's Party (SLPP), under the leadership of Albert Margai, and it narrowly lost the 1967 Sierra Leone parliamentary elections to the main opposition party of the All People's Congress (APC) led by Siaka Stevens.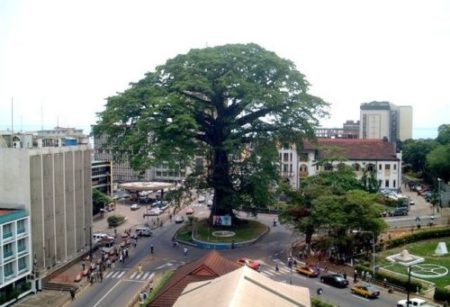 Macroeconomic Context
After slowing to 3.5% in 2018 from 3.8% in the previous year, economic growth in Sierra Leone is projected to rebound to 4.8% in 2019 driven by increased activities in agriculture and construction as well as the resumption of iron ore production and exports. Growth in these labor-intensive sectors could make a dent on poverty which remains widespread in the country (more than half of the population lives in poverty, according to the latest Sierra Leone Integrated Household Survey (SLIHS)). The SLIHS 2018 will inform in the next few months the evolution of poverty in the country since 2011. Agriculture will continue to drive the non-iron ore gross domestic product (GDP) growth, with the sector expected to grow by 4.2% in 2019, spurred by increased investments and expansion in the crops, livestock and fisheries sub-sectors. The growth in services is expected to slow due to weaker performance in tourism, transportation and communication.
The macroeconomic situation remained challenging during the first half of 2019 (2019H1) as inflationary pressure and exchange rate depreciation increased. Inflation, which moderated from 18.2 to 16.8% in 2018, increased to 17.2% in 2019H1 reflecting a sharp depreciation of exchange rate and elevated nonfood prices due mainly to the increase in fuel prices. The Leone came under intense pressure in 2019H1, depreciating by 4.8% and 6.5% (YoY) at the official and parallel markets, respectively, reflecting lower-than-expected export receipts and donor inflows as well as increased demand for foreign exchange to finance imports.
The fiscal deficit will continue to improve as the government strengthens its fiscal consolidation measures. The overall fiscal deficit will narrow from 5.7% of GDP to 3.4% due mainly to increased revenue mobilization and expenditure management. Total revenue is expected to increase from 14.9% of GDP to 15.7% in 2019 as the government continues to implement its medium-term revenue mobilization strategy, which includes automation of customs documentation and tax processes and improving the operations of the treasury single account. Tax revenues are therefore expected to increase to 14.0% of GDP from 13.7% in the previous year.
Total public debt is estimated to increase from 60.9% of GDP in 2018 to 62.3% of GDP in 2019, reflecting depreciation of the exchange rate as well as increased domestic debt on account of the conversion of stock of arrears into debt. The country remains at a "high risk" of debt distress for both external public debt and overall public debt. The current account deficit of the balance of payments is expected to narrow to 11.4% of GDP in 2019 helped by the slowdown in imports, which will more than offset the continued sluggish exports. Gross external reserves increased slightly to US$500m (3.4 months of import) in 2019H1 from $483m in 2018 (3.3 months of import).
Political Context
Development Challenges
LANGUAGES IN SIERRA LEONE
Sierra Leone Economic Outlook
Macroeconomic performance and outlook
Real GDP growth was weak in 2018 at 3.5% but improved slightly to an estimated 5.0% in 2019, driven by agriculture and services, and in the first half of 2019 by extractives. Growth in demand is driven by consumption and investment. Average inflation was 16.9% in 2018 and an estimated 15.6% in 2019. The exchange rate depreciated by 47% between 2016 and 2019. Rapid depreciation in 2019 reflected expectations about economic fundamentals and foreign exchange fueled by suspending the licenses of the two major mining companies in mid-2019.
The 2019 budget included the elimination of fuel subsidies. The overall fiscal deficit is estimated to have improved to 3.5% of GDP in 2019 from 5.8% of GDP in 2018, a healthy sign.
The current account deficit, 13.8% of GDP in 2018, improved to an estimated 11.7% in 2019 and is projected to decline steadily to 10.3% of GDP in 2020 and 9.7% in 2021. This reflects a more restrictive trade regime that started in 2017 with selective tariffs on imports and the launch of the Made in Sierra Leone initiative.
Tailwinds and headwinds