UBA now provides AFRIMONEY service to better serve our customers
UBA now provides AFRIMONEY service to better serve our customers
UBA Sierra Leone is now offering AfriMoney service to better serve our customers. Africell subscribers can now walk into our Charlotte Street Branch to withdraw and deposit cash via  AfriMoney.
 AfriMoney  enables you to withdraw and deposit up-to Le 7,000,000 (Seven Million Leones) with your AfriMoney accounts at UBA.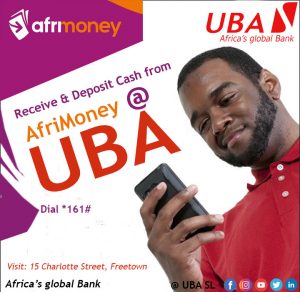 Africell, one of the leading telecommunication companies in the country partners with UBA to provide this easy to go service. UBA continues to provide excellence services to meet the needs of our esteem customers.
Africell 'bring people closer' started operations in Sierra Leone in 2005 and has grown to become one of the leading Telecommunication Operators in the country. Championing this from UBA, is the Head of Digital Banking, Olanrewaju Agbetu, who said that UBA will continue to take the lead in innovation at all front, geared towards enhancing customers experience. To better rollout this service, a day training was conducted at the UBA office.
Mr. Barry taking the lead from Africell facilitated the training and shared the road map that will strengthen the already existing partnership of both parties to the amusement and satisfaction of both Africell and UBA subscribers nationwide. In attendance of the training were representatives from UBA digital, remittance, MCC and operational team as well as Africell's reps.
The new *162# is the Golden Buzzer that expedites customers' need and access to cash.