UBA Sierra Leone Introduces Saturday Banking to Delight Customers
UBA Sierra Leone Introduces Saturday Banking to Delight Customers
UBA Sierra Leone on Saturday 6th February 2021, launched its Saturday Banking initiative at Charlotte Street Branch in Freetown. This is part of the subsidiary's direct response to the Bank's Customer 1st Philosophy.
The Saturday Banking Initiative introduced by UBA Sierra Leone seeks to meet the demand of the subsidiary's corporate, retail and wholesale customers that generate huge volume of cash tractions during the weekend to enable them make deposit and have access to their monies.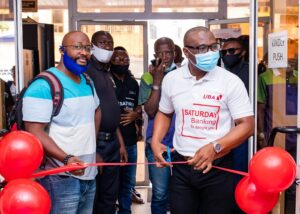 The Managing Director of UBA Sierra Leone, Usman Isiaka during the official launch told customers that the bank is ready to sacrifice the time of staff and senior executive members to ensure that customers get quality banking services every Saturday from 9:00am -2:00pm. In given some of the benefits of Saturday banking, Usman Isiaka stated that it will improve the bank's customer's service rating in the financial market, thus mitigating the risks of customers having to take liquid cash after Saturday's transaction at home. He added that, the Saturday banking will improve customer's perception of UBA as a customer focused bank.
"UBA Sierra Leone Saturday Banking is a step ahead of other banks since no other bank is currently offering this service in market," said the MD.   The MD/CEO further disclosed that this initiative would also make prospective customers open accounts with the bank mainly because the bank offer Saturday Banking.
It's expected that the Saturday Banking will have positive impact on the subsidiary deposit growth as UBA Sierra Leone take advantage of this acquire new customers and grow the bank's share of wallet of existing customers.
In talking to the press, the Country Head of Operation, Cephas Gabada revealed that the Saturday Banking would reduce the risk of customers who usually have to carry their Saturday sales home over the weekend.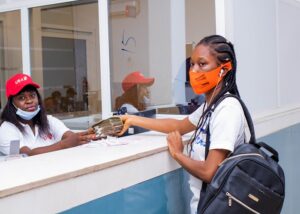 The Head of Retail Banking, United Bank for African, Victoria Olukotun noted that the bank is always in a position to listen to their customers' feedback and needs, adding that the introduction of Saturday banking is a demand from their customers. She also underscored that UBA has always set the pace in whatever the bank does and have always ensured that the bank go the extra mile in satisfying customer demands.
Speaking to one customer at the launch, Mohamed Bangura commended the bank for introducing Saturday Banking as it will help address their financial challenges, adding that such services will now allow them to deposit and also make withdrawals at their convenience.