Best Dressed Male staff for the month of March-April Ibrahim Sadare
I feel very honored to emerge as the best dressed male staff of the month. Firstly I don't ponder on what to wear neither wait till a particular day before I decide on what to wear. What I wear for the whole of next week I already have them scheduled in my head the week before. So as each day unfolds, I just select what I already have in mind to wear for the whole week.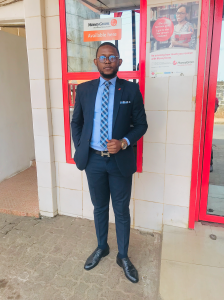 Secondly, I don't wear rumpled clothes and that is why I make sure after every laundry, I iron my clothes and neatly arrange them ahead of the week.
Thirdly, using of body spray and some other body ointments are very dear to me. Three items I don't joke with are; Hair cream, body spray and perfume. These items are very essential to my looks and I make certain that I do not run out of my essential oils.
Let me quickly conclude, because I can write an epistle on how I keep up my good looks lol.
It is important to keep a sharp  look especially as a relationship manager, customers want to speak with someone who is confident. looking good upscale my confidence and helps me close the businesses I bring in.
It is also important that I represent the UBA brand all the time and that includes having a good presentation. Once again thank you for awarding me as best dressed male for the month of May, and I am encouraged to keep looking fly.